Need extra prices for DigiPacks or Gatefold wallets etc
Call 03 9416 2133 or just click here
2 PANEL PRINTED CARDBOARD SLEEVES AND REPLICATED CD'S PRINTED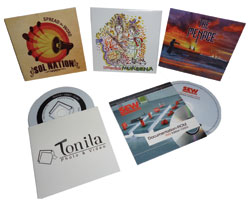 Garage-less Band
So, you are a garage-less garage band hopeful. This must mean that you are unemployed. You live in your mother's house because your girlfriend gave you the boot. Your dog bites you at every opportunity. You were busted for your first breath test while taking your driver's license test.
You broke your right arm while making a peanut butter sandwich. You were turned down from Social Security because "lazy-idous" isn't a real disease.
Your car was leaking oil so you stopped putting it in your engine. No more leaks, and no more engine. The firefighters were nice, and this was added to your frequent-fire miles. You once chased a possum around a oak tree and it bit you. You bit he back. It died.
All this and you still found the drive to record an album worth of your original music. The question now is; will I have food for the week, or will I have my hot tunes put onto CD's. AA DUPLICATION offers a variety of custom Disc Packaging to enhance your special CD/DVD Replication Project. We offer Retail Ready Jewel Case Packages with full colour printed inserts and tray cards, as well as Custom Printed Sleeves, Wallets, Digipacks and more.
Don't see what you want? Don't worry, there are so many options we just can't show them all, without cluttering our nice clean website, however, we can certainly get them for you. We have basic Disc Packaging like White Paper Sleeves, Vinyl Sleeves and C-Shells, Plastic Mailers Custom Disc Packaging. Call or email: sales@aaduplication.com.au to get the right information you need for your project.